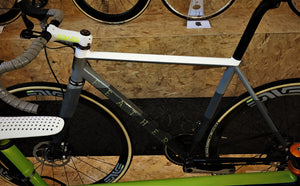 Bespoke bike buying.
It all starts with an innocuous visit to the Bespoked cycle show in Bristol UK. On arrival at the venue the familiar layout greets me, small stands, lots of unique bikes and some friendly faces in the crowds of people. I head to the Look Mum No Hands travelling cafe bar and acquire myself a pint, a few sips of beer to help settle me into a meandering mood. I have made a list of builders I want to see. Rob English is one of them, I love Rob's frames and I have a message to deliver him from a friend who owns one of his frames. His stand has just a few bikes and not necessarily my favourites from his builds. After a brief chat with Rob and successful delivery of the message I wander around looking at all the interesting designs and builds on display. I am taken by the number of builders now working in materials other than steel, too often I feel people believe bespoke to mean steel. After a circuit of all the main stands and a quick snapshot of Demon frameworks offering to the frame building gods.
Demon Frameworks showing.

I find myself in the small side room dedicated to new builders. I like this area as it has a nice feel. There are lots of new builders showing their wares some really interesting exhibits this year, including a custom-built carbon fibre builder from Ireland who had a very interesting frame offering.
My main target of the show was, however, Ricky Feather. I was first introduced to Ricky's frames by Tokyo Fixed Gear. As always Ricky had some beautiful bikes on display. He was also constantly busy. Eventually I saw an opening and I managed to catch him in conversation. I asked him what his waiting time for a frame looked like as I know two years was previously the normal expected wait for him to build for you. Ricky told me he had only just reopened his book for orders after nearly two years of not accepting any new customers he had caught up a bit he was now quoting six months. I did not need to ponder for more that a handful of seconds before I asked him to build me a bike. The frame I wanted is a disc brake race orientated frame with maximum tyre clearance for 28mm tyres. We discussed the build a little and he said he would email me for a deposit after the show. Travelling back from the show after one or two more fine beers from the LMNH bar felt good, my journey to owning a Ricky Feather frame had begun. 
To be continued.............. 
---